About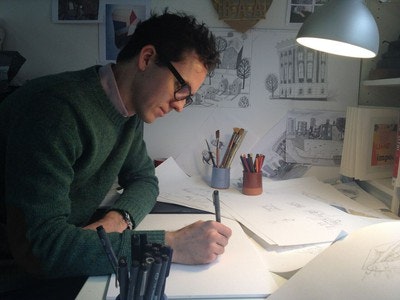 Peter Baynton is an award-winning director of animated films, music videos and commercials. He's also an animator, compositor, storyboard artist and illustrator. He has been obsessed with drawing pictures since he was a kid, and his passion for animation stems from his love of combining illustration and figurative art with storytelling and drama.
Peter studied architecture at Cambridge University and character animation at Central St Martin's in London. His first film after graduating won The McLaren Award for Best British Animation, and he was selected by Screen International as a UK Star of Tomorrow. He has been directing animated shorts, music promos and commercials for 12 years since then, and has picked up over 25 awards at film festivals around the world along the way, including an Annecy Crystal in 2013.

Peter worked as a storyboard artist on the BAFTA winning CBeebies show Sarah & Duck at Karrot Entertainment, and in 2017 was the 2D Animation Director for Paddington 2. In 2018 and 2019 he was Animation Director for Lupus Films' production of The Tiger Who Came To Tea. This adaption of Judith Kerr's classic book will be aired on Channel 4 this Christmas.
In 2013 Peter set up Radish Pictures, a London based production company which makes animated brand videos, sales videos, explainers, motion-graphics and infographics for companies ranging from tiny start-ups to multi-nationals. Visit Radish Pictures here.
Contact Peter at peter@radish-pictures.com
Awards
Cordillera International Film Festival 2020 Best Music Video
Performance Film & Media Insurance Short Film Festival 2020 Best Animation
Boomtown Film and Music Festival, Texas, 2019 Best Music Video
Chelmsford Film Festival 2019 Best Music Video
Animation Block Party 2016 Music Video Award
Chelmsford Film Festival 2017 Best Music Video
LagoFest 2016, Italy Unicef Award
British Animation Awards 2016 Public Choice Best Music Video
Singapore International Children's Film Festival 2016 (Big Eyes Big Minds) Special Jury Award
Klik! Amsterdam Animation Festival, Netherlands 2015 Best Music Video
Encounters Short Film Festival, UK 2015 Music Video Award
Expotoons, Argentina 2015 Best Music Video
San Francisco Frozen Film Festival, UK 2014 Best Music Video
British Animation Awards, UK 2014 Public Choice Best Music Video
Crystal Palace International Film Festival, UK 2013 Best Animation
Crystal Palace International Film Festival, UK 2013 Best Music Video
Annecy International Festival of Animation, France 2013 Special Jury Award, Commissioned Films
Encounters Short Film Festival, UK 2010 FILMCLUB Children's Animation Jury Award
Stoke Your Fires Festival of the Moving Image, 2011 Best Professional Animation
Animex International Festival for Animation and Computer Games, 2011 2D Animation Award
Edinburgh International Film Festival 2007 McLaren Award for Best New British Animation
Austin International Film Festival, USA 2007 Best Animated Short Film
Cinanima, Espinho, Portugal 2007 RTP2 award
Seagate Foyle Film Festival, Ireland 2007 Best Short Animation
Taipei Golden Horse Film Festival 2007 Short Film Audience Award
Newport Beach Film Festival, USA 2007 Audience Award for Short Animation
Rushes Soho Shorts Film Festival, UK 2007 Runner up, Best Animated Short
Raindance Film Festival, UK 2007 Runner up, Best UK Short Film
The British Association of Communicators in Business Central Region Awards, 2010 Electronic Design Award